Dildar Ahmad
My Story
Being an early childhood orphan Dildar Ahmad started earning his livelihood along with studies right after his 9th class .As his mother had raised him with great expectations he was all set to give her mother and his younger brother all the luxuries of life . All was going well and he had new dreams as this was the last year of his graduation. Being a handworker and having unique ingenuity to handle the tough situations he earned a good name in the books of his boss and raised to the level of next to him. Like every other day he went to his work and this day proved to be very hectic as he had to have a supervision of his friend's work for he being busy himself in marriage. After days tiredness Dildar Ahmad returned to his boss's home and it was the prayer's time . As he was crossing the road as mosque was on the other side of road he met his friends and did the handshake one by one but the last handshake turned to be a life changing accident as he fell down when his friend pulled the hand in joke.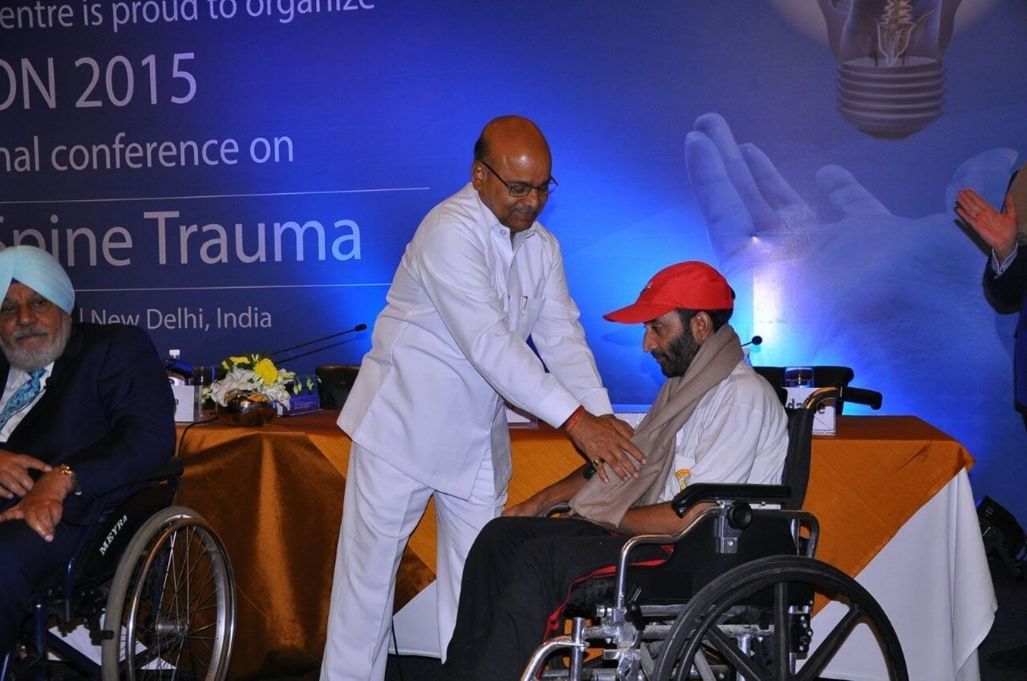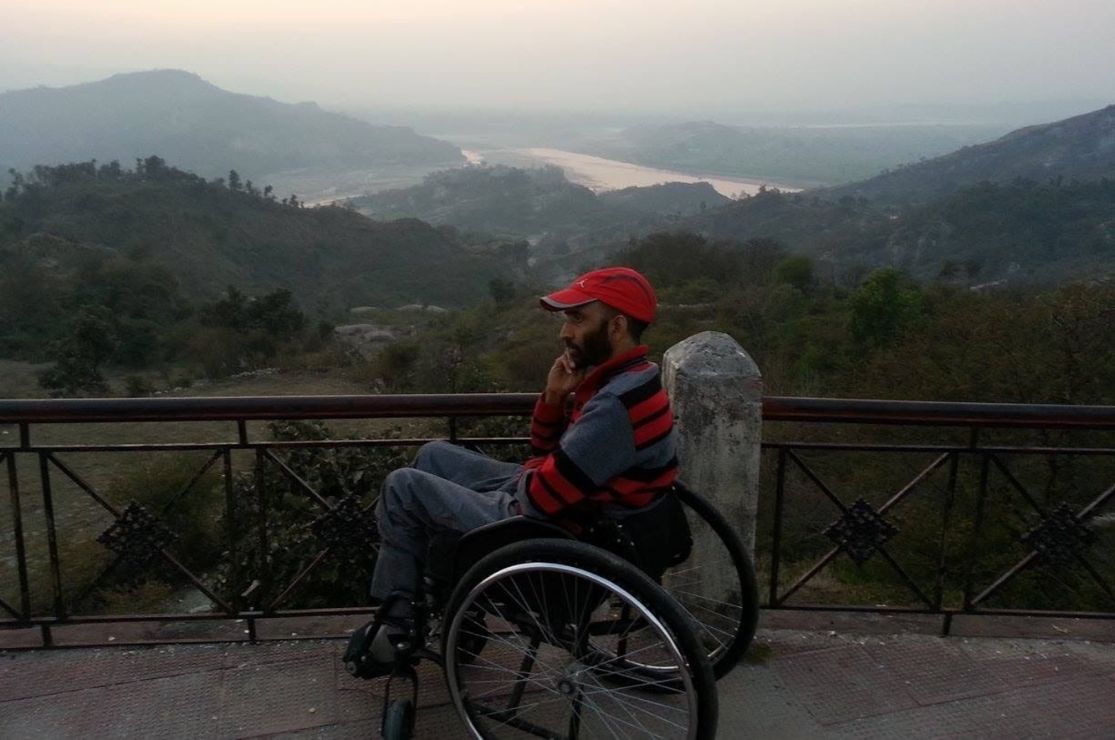 He fell down twisting with such a loud cry that all the villagers rushed to the spot. No one had any idea what had happened and no one would've idea of the fact that this was the beginning of hardships of his life. His friends asked him to stand up but he was perplexed, shocked and stunned for not feeling his body below the ribs though he could see the lower body being intact. He was rushed to the local hospital at Qazigund where doctors had a good examination but referred him to SKIMS Srinagar - On the way at Pampore the famous saffron town of Kashmir he vomited and this was all he knows of this unfortunate fifth day of September 1996. On 7th day of same month he opened his eyes and found his dearest mother, brother and boss along with some other persons. Instantly he was reminded of the accident day before yesterday but he could not understand what really has happened to his lower body and he could not utter a single word when he saw a pipe inserted into his urinary bladder to drain out the urine which he came to know afterwards that it was called catheter
The period of Forty five (45) days there were so silent like after the deadly storm the environment becomes . He had painful days there and lost all his money : when doctors could not decide what to do the weak financial Condition forced him to leave the hospital voluntarily . It was the period when Kashmir was highly turbulent and there was no cone pt. of spinal cord injury nor there was any rehabilitation Center in Jammu and Kashmir.
Being at home for almost week he was taken to PGI Chandigarh but it was all over . Dildar Ahmad was nothing but a live corpse dejected, paralyzed and demoralized ' . His daily routine was only to wait for tea, lunch and dinner and wait for death. He was thinking of his poor family condition and used to gaze at mother and younger brother. Thankfully being from village having a vegetable farm and hardworking mother he used to get the food but the financial Condition used to worry him and he was seeing the dark future of him and his little family.
Days had changed and the boss also never came to see him nor paid any amount when he had worked hard to flourish the business and the agreed ten percent share was denied by his boss which is no wonder in corporate world. He was seeing the people whispering about his death which never came . Years passed in waiting for this death and in those years Dildar went through tumultuous ,pathetic and undignified periods - Every new day brought new challenge and he had no idea where life his going and where it will go . Also he had no idea that there can be a dignified and meaningful life on wheelchair .It was just like adding days to life and had no idea of adding life to years . Hailing from a backward mountainous village thinking of any support moral or financial was like to find a spring in a desert though everybody was giving lessons and he used to hear without any reaction but in the heart of hearts was drawing map of his future life.
Dildar Ahmad says ,"You need to be ready to learn and rest is destiny. I accepted my disability and LIFE BECAME MY BIGGEST TEACHER. After years of litigation he got some amount from MACT and took loan from Jammu and Kashmir Bank and started the business of transportation of public goods. World had moved and he was fascinated on visiting his school and town of his office as everything had changed. He says, it is so crucial and cardinal that every person with spinal cord injury (PwSCI) gets instant qualitative physical and psychological rehabilitation so that he does not waste the crucial time after injury to redefine and reorientate his /her life." But his case was different for losing his career and business and later on his only motivation, guide, friend and support the dearest mother.
Then he bought a modified bike from Indore Madhya Pradesh and he was so happy as now he too can go out to enjoy blue skies and nice cool breeze of his hilly village - But it proved to be a nightmare as it became his identity and the startling ,peculiar and strange looks of people made him feel that he has come from different world and is not part of this society . As the society created inferiority complex in him he sold that bike for half of the price which he had bought as a dream come true . This shocked him again and there he began to think of inclusive society . He began to think of social acceptance of disabled especially severely disabled people as Social Sympathy will lead disabled nowhere. In the meantime he suffered heavy loss due to the negligence of his driver as the inaccessible physical infrastructure was big impediment in reaching everywhere regarding his business. He says this is why the accessible environment is necessary for the empowerment of Persons with spinal cord injury. As his financial condition consolidated he bought a Santro car and used to go out and started looking for the PwSCI and find few some of them being Aijaz Sabab , Khurshid sir and Javid Sahab. There was the birth of his brainchild which resulted in the formation of this organization named Concerned About Rehabilitation and Empowerment (CARE) . The above three friends stood like a wall behind him and he started compilation of database of such people in Jammu and Kashmir and coordinated them by a WhatsApp group named Valley wheelies.
The paradigm shift of his life was when he read about car modification - His pleasure and hope enhanced by leaps and bounds on reading he can drive his own car . He wrote to the company in Pune Maharashtra and send them the money in advance . He got his car modified and his life changed . He used to go for hundreds of kilometer's alone which he never thought after the bad and pathetic days post spinal cord injury (sci) . Even there society created suspicions and apprehensions in the mind of his mother but he succeeded in defeating the taboos of society.
In 2015 he became the first PwSCI to do the all India spinal cord injury awareness drive when he drove his modified car through the length and breadth of india covering 24850 kms in 77 days. He got the award from ISIC Dehli and spinal society of india presented to him by Hon'ble union minister of social justice and empowerment. He was saddened to see the sufferings of the members of his fraternity and started working with The spinal foundation and The Ganga Foundation (TGF).
Again misfortune knocked his door, he burnt his feet unknowingly and the distal amputation of two toes was carried out and also it took many months to heal after plastic surgery. As he was in hospital alone despite of hospital being inaccessible and doctors there applauded his grit, strength and courage but being absent from his business suffered another loss and had to sold his car to make for loss.
But he knew that wheelchair life has these disadvantages and it sucks the person both physically as well as mentally. He rejuvenated his efforts and aim and restarted procuring free and right wheelchairs to the needy and involved his friends to give PwSCI money for generating means of livelihood and sending PwSCI outside Kashmir for the treatment of bedsores and that too free.
Covid brought him individual problems but he preferred to help PwSCI by involving friends and depositing money directly into their accounts and with the help of Shafaqat Rehabilitation Centre an undertaking of Voluntary Medicare Society an outstanding organization working for Rehabilitation of severely disabled in Jammu and Kashmir distributed free ration kits at the door of PwSCI despite of restrictions on travelling. He says how spinal cord injury has sucked, devastated, dejected, dismantled and destructed his life journey again and again despite of commendable strength, grit, fortitude, composure and courage.
To increase the sphere and intensity of his work this Foundation came into existence as day by day the number of PwSCI is increasing worryingly and our social fabric and set up is transforming into nuclear families and the look after of PwSCI has become the biggest problem. The loneliness and being unattended reminds him of his own days of suffering and efforts are on to save PwSCI from the ordeal, agony and affliction through which Dildar Ahmad went. He lost his career, business, mother and infact everything due to this life long sucking disability known as spinal cord injury.