Warriors on Wheelz
Even though the year of invention of Wheelchair is not known but one can envisage the ordeal, hardships, absolute dependence, difficulties and pathetic state of life of PwSCI before the invention. From its date of invention till date the wheelchair too has changed and underwent lot of changes. From a wooden one to metallic and now different alloys and plastic is used to make it sturdy, easy and light. Nowadays even the Quadriplegic manage their lives at their own and it is impressive to see them fighting the difficulties and living a purposeful, meaningful and dignified life. The key is the modification of houses or the bedrooms and washrooms of PwSCI to make them according to their needs. Though govt established composite rehabilitation center at Bemina Srinagar but you have to travel a kilometre or so to see a marvel of Rehabilitation called Shafaqat Rehabilitation center (SRC). A Place of empowering and enabling PwSCI to enjoy the life to the fullest.It is called heaven of PwSCI as it enables them to live an independent life. The soothing ambience, calmness and lush green premises of SRC in the middle of jungle of concrete and dense environment gives the sense of freedom to PwSCI on the very first step of entrance. Today when the campaign of inclusion is yet to pick up the pace think of a man Mr Dr Maqbool who 50 years ago laid a foundation stone of voluntary medicare society which today runs the Shafaqat special school of mentally retarded students and also the above mentioned rehab center.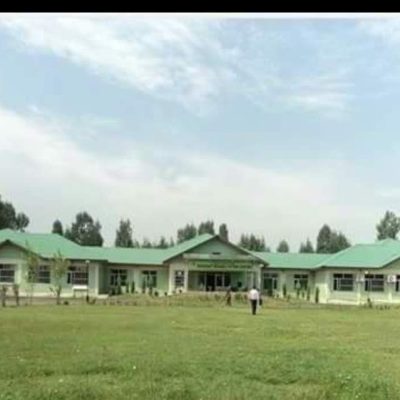 Mr Khurshid Ahmad
It is a brain child of its vice-president Mr Khurshid Ahmad an ex IAS who met an Road traffic accident decades ago and was rehabilitated in UK. He returned with the pious aim of serving PwSCI to give them state of art rehabilitation in a friendly environment and most importantly all the services are provided at a very minimal charges as compared to other rehab centres of india and absolutely free for PwSCI from underprivileged families. Another centre associated with differently abled and PwSCI as whole is Humanity welfare centre. It also educates mentally retarded children and also has collected many wheelchairs to distribute them among the PwSCI of jammu and kashmir.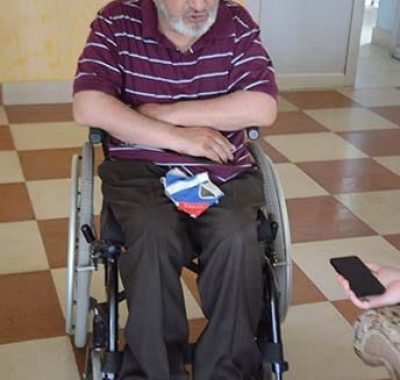 Javid Ahmad Tak
Being hit by a bullet Javid Ahmad Tak not only is living a meaningful and famous but motivates other persons also. He has won number of prestigious awards for advocacy of different abled persons. Jammu and Kashmir has earned its name as number of PwsCI are living a successful life overcoming all the hurdles and impediments.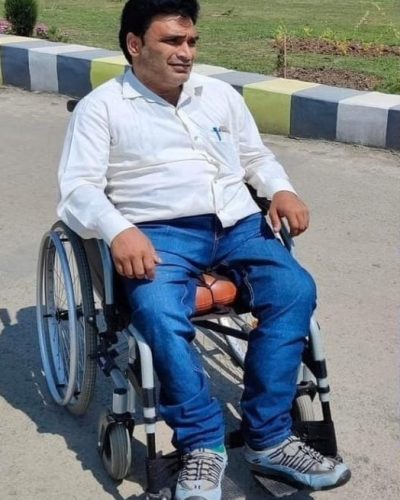 Muzafar Nazir and John Mohd Bhat
Every morning Muzafar Nazir and John Mohd Bhat both from south kashmir start their vechiles like other normal persons and return in the evening after doing the daily work as both being the contractors thus not only earning their livelihood but help their families instead of being burden on them. While driving it is hard to guess their spinal injury. It is not that it happened in a wink but their will and desire to overcome all the problems and associated problems of spinal cord injury. Their persistent pursuance helped them to find a niche in the circle of already settled contractors. Despite of early hardships and ordeals they were not ready to accept defeat but to come out with flying colors and hardwork never goes unrewarded. Muzafar has played his role in the compilation of data of PwSCI in J&K and ladakh. He collects the applications from PwSCI needing wheelchairs and send them to different organisations of india working for PwSCI. All this work is done on voluntary basis by him and he prefers to help PwSCI over everything even his business which everybody cannot do.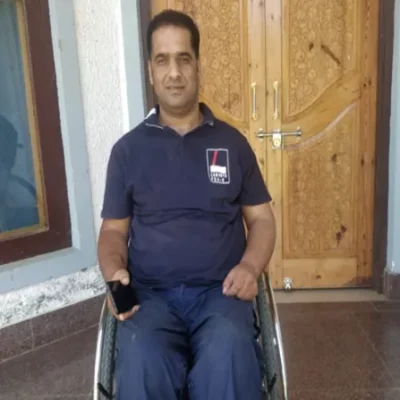 Mohammad Rafi
Born with a disability of facial hemangioma Mohammad Rafi had never ever thought that another severe disability is at his threshold when he fell from the roof of his home and sustained sci. But despite of two disabilities did not loose hope and his grit, courage and ingenuity has paid off.
He's also a the player of first wheelchair Basketball team of J&K which was
formed by the auspicious help and efforts of SHAFAQAT REHABILITATION CENTRE Bemina. Having good command on English language and knowing the sci well he has helped number of such persons in redesigning and reshaping their lives on wheelchair. He has played an important role in the compilation of data of sci in J&K.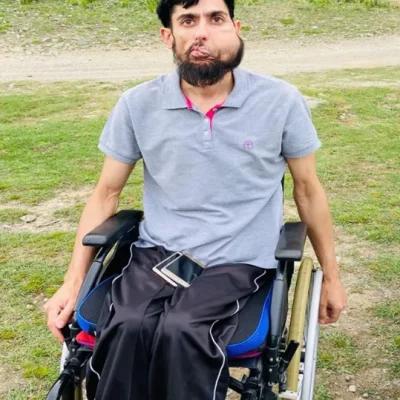 Zeeshan Ayub
Zeeshan Ayub is the youngest of lot who sustained sci at a tender age of seven but the way he accepted the disability and started his new life on wheelchair is commendable. When he had no idea of this disability and he was too young to understand the injury he proved to be a strong and intelligent to defeat all the difficulties sci has given to him. We all are praying for his prosperous, healthy and successful life ahead. Every morning he cleans his wheelchair and prepares for the day at school enlightening the need of inclusion and spreading the message of social acceptance of PwSCI.
There are many other successful stories and SHAFAQAT REHABILITATION CENTRE has played a key role in their redefining and reorientation of life post sci. Let's work together to make a world with accessible physical infrastructure wiping all the impediments, barriers and obstacles to give PwSCI an equal chance of right to live with purpose and dignity.